Cheap Hotels Berlin City Centre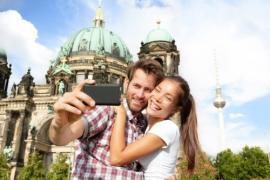 Compare cheap hotels in Berlin for great deals with CompareTravel.ie. The capital city of a new unified Germany, Berlin is not only historic in so many ways reflected in the many memorials and museums focusing on its troubled past. It is also filled with natural beauty, as over a 3rd of this great city comprises of parks, woodland, public gardens, lakes and the River Spree. The city is also the 3rd most visited in Europe and has nearly eight hundred hotels to cater for your every need.
Germany is now double the fun since east and west became one in 1990. It is known throughout the world for its efficiency and financial prowess. The country also has an abundance of spectacular attractions and activities for all ages. Enter your dates and destination to compare great online deals from the top hotel comparison websites. Review the cheapest deals and book online today. You may be surprised at how much you can save!