Waterford Travel Guide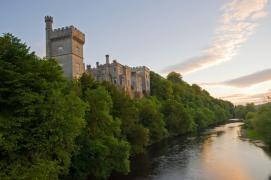 Waterford Travel Guide Ireland
Waterford Travel Guide – Waterford is the oldest city in the country and is situated at the head of Waterford Harbour. The city centre has a superb selection of restaurants, shops, bars and attractions to suit everyone's tastes. Waterford has a beautiful medieval personality throughout, while outside the city stands the wonderfully imposing Comeragh Mountains.
Waterford Airport
Waterford Airport is 9 kilometres south-east of Waterford Town. Flybe airline is the only airline operating out of the airport and has routes to Manchester and Birmingham. Facilities at the airport include free Wi-Fi, 200 car parking spaces, two snack bars, two car rental desks and a taxi rank.
Waterford Hotels
Some of our favourite Waterford hotels include Granville Hotel, Waterford Castel Hotel and Athenaeum House Hotel.
Granville Hotel:
The Granville Hotel, a highly acclaimed four-star hotel, has 98 rooms and is located in Waterford City Centre beside the waterfront and marina. The hotel is within walking distance of all the city centre's attractions and is only minutes away from Waterford's regional airport.
Waterford Castle Hotel:
Only 2 kilometres outside Waterford City Centre is this picturesque four-star hotel. The hotel is set in a 300-acre island and has an eighteen-hole championship golf course. Access to the island and hotel is by car ferry, offering a truly unique experience!
Athenaeum House Hotel:
Athenaeum House Hotel, a trendy hotel is only one kilometre outside Waterford City Centre. This fabulously restored 17th-century Georgian house has 29 guest rooms, the renowned Zak's Restaurant and Wi-Fi access.
Waterford Car Hire
Companies operating a car hire service in Waterford include Waterford Airport Car Hire, Economy Car Rentals, Enterprise Rent a Car, Hertz and Budget. Many Irish car hire companies include 24-hour breakdown service, unlimited mileage, third party liability insurance, CDW insurance, theft insurance and taxes. Compare cheap car hire in Ireland today for great deals.
Top Waterford Tourist Attractions
House of Waterford Crystal
Want to get glassy-eyed? Then why not take a guided tour of the most extensive collection of Waterford Crystal on the planet! The tour will take you through the factory where you will learn about traditional crystal production, including moulding, blowing, hand marking, cutting, sculpting and engraving.
Waterford Shopping
Waterford's main shopping area is to be found in the Merchants Quarter. Here you will find Georges Court Shopping Centre, with 24 retail outlets and restaurants, and City Square Shopping Centre, with 43 outlets.
Waterford Nature Park
After a hard days shopping, why not relax in Mother Nature's hands. This 50-acre city park has a 2-kilometre walkway, nature trails, wildflower meadows and play equipment for the kids. The park contains over 20,000 trees and shrubs. Opening hours are 7 am-5:30 pm, Monday to Friday, and 9 am-5:30 pm weekends and bank holidays.
Medieval Museum
The Medieval Museum is the number one ranked visitor attraction in Waterford City and is located between Cathedral Square and The Bishop's Palace. The actor-led tours will take you back in time, where you will see the fantastic 13th-century Chorister's Hall, The Great Charter Roll and The Cloth-of-Gold Vestments. Thank you for visiting our Waterford Travel Guide article, we hope you have an enjoyable and relaxing trip.