Compare car rental deals for 2019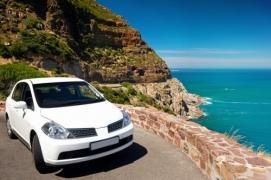 Our aim is to help you find the best car rental deals; whether it's a compact for a family holiday, an SUV for a business trip or a luxury car for that romantic getaway. We compare prices from top branded rental providers in thousands of worldwide destinations.
Let us do the shopping around for you. We are free to use and do not charge extra fees on top of your quoted rate. Booking a car rental has never been so easy. Simply input your destination, dates and type of vehicle (mini, economy, luxury etc) to review packages. We compare prices from the following car hire agents: Budget, Firefly, Thrifty, Europcar, Hertz, Enterprise, Dollar and Sixt to name just a few.
Our comparison engine saves you time by comparing all our car rental providers in one go, it will also rank the results in order of choice, type of car, rental brand and cheapest price. Review special offers and competitive prices for both business and leisure trips.
Popular airports include: Dublin Airport, Cork Airport, Kerry Airport, Shannon Airport, Alicante Airport, Faro Airport, Bergamo Airport, Malaga Airport, Bristol Airport, Rome Airport, Birmingham Airport, London Gatwick Airport, London Stansted Airport, Lisbon Airport, Nice Airport, Beauvais Airport, Manchester Airport & Gran Canaria Airport. Pick up and drop off locations are situated at the airport and city centre. Thank you for visiting our website, we hope you have a safe and enjoyable journey.
Review our cheap car hire tips!
Probably the easiest task in planning that well-earned holiday is arranging the actual trip itself. It's the extras, like travel insurance, baggage surcharges & car hire that can cause the grief. You need to ensure that you are aware of what is covered in the cost of your car rental package…and what is not. We will go through some useful tips to note when booking a cheap car hire online.
Ensure that you are not charged a premium price for "CDW" and "additional driver add on". The best way to ensure that you are covered for these and to avoid any nasty financial shocks is to pre-plan your car rental and book a package in advance, rather than waiting until you arrive at the airport, where you may have to opt for the limited and expensive car hire package available at the time.
1. Car hire excess also known as Collision Damage Waiver (CDW) – Many travelers expect their car hire package to cover them for basics like damage to the car or being unfortunate enough to have their rental stolen, etc. Typically the package will cover these essentials however, there may be a high excess clause. Some items, like damage to windscreens and tyres are typically not covered. Always check the terms and conditions.
To ensure that you are covered for every possibility, you should purchase a Collision Damage Waiver policy. Car hire excess is the amount the customer must pay upfront before the insurance company pays the claim. The premium may depend on a number of items…such as the size of the car and rental duration.
2. Request that the car hire agent examines the car when you hand back the keys to confirm that it is in good condition. Please note if you have caused damage to the vehicle, take photographs for your records.
3. To get maximum discounts it is always advisable to book your car a few months in advance and consider looking at both large and small rentals. Mini's and compacts are not always the cheapest deal as they are in such high demand.
4. Again, savvy customers should avoid niggling extras like satnav or child car seat rentals by simply bringing their own. It is always advisable to consider extras in advance, before you head off on your trip. Typically, these extras may include:
– Child, infant, booster seat/seats
– Snow chains/tyres
– Satnav equipment
– Roof rack for luggage/skies, etc
5. Fuel policy, one of the most costly options in a car rental agreement is the terms relating to fuel replenishment…particularly if you are taking the car for a long period of time. The main types of fuel policies are as follows:
You collect the car with a full tank and return it full:
This policy allows you to keep control of the cost of your fuel by allowing you to refill the tank yourself before returning the car. This is usually cheaper than allowing the rental agency to charge for a full tank, as they may not offer you a competitive price per litre. Sometimes you may be offered the option of collecting the rental with a half or quarter tank of fuel, to be returned with the same level of fuel.
You collect the rental with a full tank but return it empty:
As explained above, this may be a costlier option as you are bound to find cheaper fuel than the price per litre car rental agencies typically charge. However, this may suit the busy business executive who does not want the hassle of driving around near the airport looking for a garage. One of the major downsides with this policy is that you do not get a credit for any fuel left in the tank.
You collect your car and prepay for the refill of the tank:
Here you pay for a full tank of fuel when you collect the car. The advantage is that you get a refund for the fuel left in the tank when you return the car. Unfortunately this policy may incur an administration fee!
6. Documentation, opt for the email version rather that requesting documents to be sent out in the post, as this will save on additional postage fees. When you purchase a car rental, your documentation / voucher can be printed off, amended and cancelled online. The email will go through all the necessary details about the pick-up process, in particular, the items you will need to have at the rental desk before the keys are handed over. You can also call customer service to confirm details. The customer support telephone number will be on the email. Important documents include:
– Your own credit card – make sure it is one of the major cards that the rental agency accepts!
– Your driving license – it is important to be aware that your license cannot be a provisional/learner license and should contain no serious endorsements. You should also have had the license for at least one year.
– Car hire excess policy/CDW documents.
– Car hire voucher/document
– Valid passport.
We compare prices from the following car rental companies: Enterprise, Budget, Payless Car Rental, Hertz, Sixt, National, Avis, Almo, Gold Car, Firefly, Maggiore, InterRent, Thrifty, Europcar & Dollar to name just a few. The car hire fleet includes the following type of rental vehicles, small, medium, large, SUV's, luxury cars and convertibles. See car rental fleet descriptions below for details:
1. Small rentals – ideal for 4 passengers & 2 bags – Ford Ka, Ford Fiesta, Volkswagen Polo etc
2. Medium rentals – ideal for 5 passengers & 3 bags – Volkswagen Golf, Ford Focus, Opel Astra etc
3. Large rentals – ideal for 5 passengers & 4 bags – Ford Mondeo, Opel Insignia, Volkswagen Jetta etc
4. SUV rentals – Hyundai IX35, Nissan Qashqai, Toyota Rav4 etc
5. Luxury rentals – BMW 5 Series, Volvo s80, Mercedes E Class etc.
Car rental quotes are provided and administered by CarTrawler. Please note that payment is collected in the name of CarTrawler. We hope you found our car hire tips useful, enjoy your trip and drive safely!