Wexford Travel Guide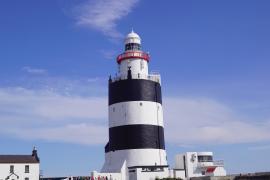 Wexford Travel Guide Ireland
Review our Wexford Travel Guide on things to do and see, we also cover, car hire and hotels. Situated close to the busy passenger ferry Rosslare Europort, Wexford town lies to the south of Wexford Harbour and estuary, into which the River Slaney flows. The birthplace of President John F. Kennedy's great grandfather. Wexford has many, many attractions to occupy the keen visitor, including Curracloe beach, the location of the Oscar-winning Saving Private Ryan opening battle scene and the visitor centre at Hook Lighthouse. Not forgetting the Irish National Heritage Park, and Johnstown and Enniscorthy castles, to name a few. The nearest airport to Wexford is Waterford Airport, about one hour's drive. Dublin and Cork Airports are about two and a half hours drive away.
Wexford hotels
Some of our favourite family hotels include the Riverbank House Hotel, Talbot Hotel and Whiteford House.
Riverbank Hotel
This top-ranked three-star hotel offers 23 rooms and is located on the Slaney River estuary, minutes from Wexford Town. The hotel offers manicured gardens, Victorian furnishings, a candlelit reception area, and overlooks the river. The hotel offers free Wi-Fi access, free parking, a restaurant and a garden bar.
Talbot Hotel
Located in Wexford City Centre, this popular four-star hotel overlooks the marina and offers 107 luxurious rooms. Hotel facilities include free breakfast, Wi-Fi access, business centre, swimming pool, health and fitness centre, restaurant, bar and free parking.
Whitford House Hotel
Located two miles from Wexford City Centre and 12 miles from Rosslare Europort, this four-star hotel will pamper you from the moment you step through the door. Take a dip in the Jacuzzi & hydrotherapy pool and then indulge your senses with a decadent spa treatment! Other facilities on offer include a business centre, swimming pool and free parking. Compare cheap Wexford hotels today using our comparison engine and save. Compare Wexford Hotel prices here.
Wexford car hire
Dan Dooley, Expedia, Europcar, Economy Car Rentals, Avis, Budget and Hertz car hire companies, among others, service the Wexford area. Get a cheap car hire online today using our comparison engine and save.
Top Wexford visitor attractions
Hook Lighthouse
This 13th-century lighthouse is one of the oldest working lighthouses in the world and offers fantastic views of the Hook Peninsula from its balcony. Guided tours take you up the 115 steps to the upper tier and the lantern, and under-fives go free!
Dunbrody Abbey & Hedge Maze
Dunbrody Abbey is a stunning 12th-century Cistercian monastery, a castle, a visitor centre and one of the biggest hew hedge mazes in Ireland are part of what this popular attraction has to offer! Also onsite is a nine-hole family golf course, a tea room and a craft gallery! Open from May to early September.
Irish National Heritage Park
There is so much to do here that you could spend the whole day and still not have experienced all on offer. The park is based in Ferrycarrig, and on your visit through the 35 acres of heritage trial, you will experience the campsite, ring fort, Viking house, crannog and mill. Through the wetlands and woodland, you can then try your hand at archery, panning for gold, spear throwing, rock art and rowing!
Other Attractions
Other popular tourist attractions in Wexford include Ballyhack Castle, Dunbrody Famine Ship, Fethard Castle, Irish Agricultural Museum, Johnstown Castle Gardens, Tintern Abbey, Wexford Opera House, Wexford Arts Centre, Slade Castle, The Kennedy Homestead, Enniscorthy Castle, Duncannon Fort – Military and Maritime Museum, Gravity Forest Park, Kilmore Quay, The Saltee Islands, JFK Park & Arboretum, Wexford Wildfowl Reserve, and Ferns Castle and Village. Thank you for visiting our Wexford Travel Guide article, we hope you found it informative.