Compare Ireland Car Hire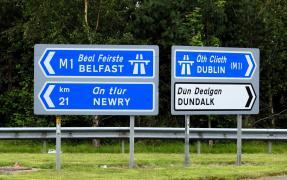 Cheap Ireland Car Rental
Compare Ireland car hire online today for the best deals. Ireland is the land of saints and scholars, and it is also the land of adventure! Where else can you take in a game of Gaelic football, sample the finest Galway Bay oysters, drink a pint of the infamous black stuff while on a literary pub crawl, and then dance the night away at a traditional Irish music session?
Visitors lucky enough to have toured this unique island continue to rave on about the breathtaking scenery along The Ring of Kerry, the desolate beauty of The Burren, the soaring Cliffs of Moher, the almost mythical Giants Causeway, and the monumental megalithic tomb of Newbridge among many other wondrous sights. It is no wonder the world's film industry has come knocking. Films like Saving Private Ryan, Braveheart, The Quiet Man, Ryan's Daughter, Educating Rita, Excalibur and Far and Away use Ireland's proud landscape as their backdrop.
And then there's the grub! From gourmet dining in Michelin-star restaurants to delightful pub grub around every corner. Sample Ireland's delicious Dublin Bay Prawns, succulent Wicklow Lamb, juicy Galway Bay Muscles, tasty Clonakilty Black Pudding and wholesome traditional Irish soda bread, all to be washed down with a creamy pint of Guinness, crafted in the St James Gate Brewery in Dublin.
Those more energetic can indulge themselves with the thrills and spills of horse riding, hill and mountain walking, sea and coarse angling, cycling and surfing, caving and pot-holing, sailing and cruising activities. And with one-third of the world's link courses, let's not forget Ireland's impressive golfing amenities. Thanks to the likes of Royal Portrush Golf Club in Derry and Portmarnock Golf Club along the coast of Dublin, Ireland has been a powerhouse within world golfing, with the likes of Rory McIlroy, Padraig Harrington, Darren Clarke and Graham McDowell leading the way internationally over recent years.
If it's festivals you're into, Ireland will not disappoint. From music festivals in Slane Castle, where U2, The Rolling Stones and Bruce Springsteen have sung their hearts out, to food and drink festivals in almost every county, Ireland aims to please every reveller. Some popular festivals include The St Patrick's Day Festival, The Galway Oyster Festival, The Rose of Tralee, The Electric Picnic, The Puck Fair and The Ploughing Championships.
Top Tourist Destinations in Ireland
Whatever it is you are looking for, Ireland has it in abundance. You'll come for the craic and leave speaking with the gift of the gab and a head full of unbelievable memories. Check out the top destinations for car hire in Ireland.
Thank you for visiting our Ireland Travel Guide article. We hope you found it helpful and informative. The Irish welcome you wholeheartedly. The only problem is you may not want to leave. Compare car hire for your trip to Ireland and save!