Dublin Travel Guide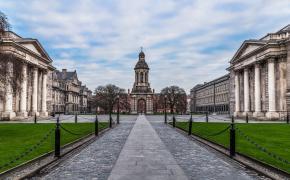 Dublin Travel Guide
Dublin has over one million individual personalities to greet visitors; you'll find writers, musicians, artists, sports fanatics, and coffee and tea-drinking connoisseurs in every corner, all with a story to tell. The city is bisected by the wonderfully romantic River Liffey, with its twenty-one uniquely crafted bridges, and boasts many wondrous attractions for young and old. The birthplace of writing icons like Oscar Wilde, Samuel Beckett, James Joyce, Brendan Behan, William Butler Yeats, and George Bernard Shaw, Dublin is flowing with literary genius. Add in the gourmet food, local brew and vibrant nightlife, and you have all the ingredients for a party!
Dublin Airport Information
Dublin airport, located around 10 kilometres from the city centre, is one of the busiest airports in Europe, with nearly 20 million passengers using its facilities every year. The airport, renowned for its fabulous duty-free shopping, is well-serviced by bus, taxi and car hire companies to take you to your final destination. The choice of fast-food restaurants, pubs and a food court will satisfy the pangs of any hungry or thirsty traveller. The airport is used by up to fifty airlines and operates a substantial array of short, medium and long-haul routes and domestic services to regional Irish airports. The enormous car park facility can accommodate up to 22,000 vehicles.
Dublin Hotels
Our favourite hotels in Dublin City Centre include The Merrion Hotel, The Westbury Hotel and The Shelbourne Hotel. See accommodation details below.
The Merrion Hotel
Located in the Georgian quarter of the city, The Merrion Hotel is an award-winning five-star establishment that excels in providing luxurious comfort. The hotel has 127 guestrooms and 19 suites, a fantastic selection of fine dining restaurants and bars, and a refreshing spa.
The Westbury Hotel
Situated in the heart of the city centre, the five-star Westbury Hotel is ideally located for those who want a short stroll to the city's cultural, retail and nightlife attractions. Its Café Nova restaurant offers a marvellous dining experience, from Irish breakfast and brunch to cocktails and supper!
The Shelbourne Hotel
Overlooking St. Stephen's Green Park, this five-star, 265-room hotel oozes character and charm. Afternoon tea is a delightful treat, followed by a few drinks in the ever-popular Shelbourne bar, where you might even bump into a celebrity or two. Searching for a good hotel deal, compare Dublin hotel prices today.
Dublin Car Hire
Get a cheap Dubin car hire online for your trip to Ireland and save. The larger car hire companies operate car hire services throughout the island. The more popular would be Avis, Hertz, Budget, Argus, Eurocar, Enterprise Rent a Car and Dan Dooley, and some of these operate desks/offices out of the country's major airports. Many Irish car companies offer various car hire classes for short and long periods, holidays or commercial rentals. They may provide unlimited mileage, third-party liability insurance, collision damage waiver insurance, theft insurance, taxes and breakdown service. Why not compare car hire in Dublin for great value deals?
Dublin Tourist Attractions
Guinness Hop Store
Check out Ireland's top visitor attraction, St. James Gate in Old Dublin, where the smell of hops wafting in the air will tickle your senses. During your experience through the seven-story building, you will learn about the history of the world-famous beverage and the brewing process, as well as being 'educated' on how to pull the perfect pint, all finished off by sampling the black elixir in The Gravity Bar with its 360-degree panoramic view over Dublin City.
Temple Bar
No visit to Dublin would be complete without soaking up the atmosphere of the city's most vibrant cultural quarter. Filled with restaurants, pubs, galleries and markets, in addition to the bohemian sounds of a myriad of ever-present street buskers, Temple Bar will take your breath away!
Dublin Zoo
With over 400 animals inside a 28-hectare park, Dublin Zoo is a real treat for all the family. Located inside the enormous 707 Hector Phoenix Park, the zoo has a selection of famous and rare animals to thrill young and old. It is frequented by over one million visitors yearly!
Grafton Street
Grafton Steet is the premier shopping street in Dublin, populated by many top retail establishments, including the iconic Brown Thomas department store, with its boutiques for Louis Vuitton, Christian Dior, Armani, Valentino, Versace, Chanel and more, and Bewleys. This world-famous café serves over one million customers each year. Across from the entrance to the street is the revealing Molly Malone statue, and at the end of the road, a haven to rest your weary legs is St. Stephens Green Park, a beautifully landscaped public park with a bandstand and ducks!
Dublin Museums
Dublin is spoilt regarding the quantity and quality of its museums. The more popular ones to visit are The National Museum of Ireland, The National Gallery of Ireland, The Natural History Museum, The Chester Beatty Library, Dublin Writer's Museum, The Douglas Hyde Gallery and The National Wax Museum. Entry to many of these famous museums is free.
The Viking Splash
Become Vikings for the day and tour around the streets of Dublin in unique amphibious vehicles, which take you from the road into the water for that added fun-filled ride. The tour will take you around Trinity College, Christ Church Cathedral, St. Patrick's Cathedral, Viking Dublin, Medieval Dublin, Georgian Dublin, Government Buildings and the Dublin Docklands.
Kilmainham Gaol
Why not immerse yourself in Irish history by visiting this infamous gaol where many of Ireland's renowned freedom fighters were imprisoned and executed? The Kilmainham Gaol is now a museum where guided tours and interactive visual displays will take you on a trip through the history of much of Nationalist Ireland. For the film buff, many movies were partly shot in the gaol, including Michael Collins, In the Name of the Father, The Italian Job and The Face of Fu Manchu. Thank you for visiting our Dublin Travel Guide. We hope you found it helpful. Enjoy our trip.