Compare Sligo Car Hire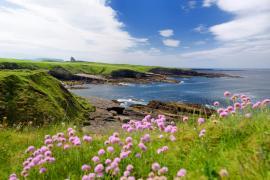 Cheap Sligo Car Rental
Compare Sligo car hire online for great value deals. The birthplace of renowned poet William Butler Yeats, Sligo has so much beauty, including Benbulbin, the majestic mountain formed during the ice age, fabulous Atlantic coast beaches, mysterious woodlands, a megalithic grave complex, and an important fishing port. Sligo town has an abundance of hotels, restaurants, pubs and nightclubs, as well as a theatre and IT College, and has also won its bid to host the 2014 All Ireland Fleadh, which typically attracts 300,000 visitors!
Sligo Airport
Sligo Airport is a small regional airport in Strandhill with no scheduled routes. The facility is used mainly by the Irish Coast Guard Search & Rescue Helicopter Service for private flight training and by skydivers. The nearest major airports to Sligo are Ireland West Airport Knock (53 kilometres) and City of Derry Airport (150 kilometres).
Sligo Hotels
Some of our favourite Sligo hotels include The Glass House Hotel, The Sligo Park Hotel and The Clarion Hotel.
The Glasshouse
This trendy four-star hotel is located in Sligo City Centre and is an architectural wonder! Facilities include concierge service, in-room internet access, an elevator, The View Bar, The Kitchen Restaurant, a business centre and free parking.
Sligo Park Hotel
The Sligo Park Hotel is a four-star hotel located in its landscaped parkland, one mile from the city centre. Hotel facilities include a health and leisure club, swimming pool, business centre, complimentary breakfast, shuttle bus, free Wi-Fi, restaurant and bar.
The Clarion Hotel
Another top-rated hotel, particularly for families, is this four-star hotel within walking distance of Sligo Town. The Benbulben mountains overlook the Clarion Hotel and offer free Wi-Fi, children's activities, a fitness centre, a swimming pool, free parking, complimentary breakfast, a business centre and a shuttle bus service.
Compare Sligo Car Hire
Compare cheap car rental for your trip to Sligo and save. All the national and international car hires companies to serve Sligo, including Avis, Hertz, Enterprise, Dan Dooley and Argus Rentals. Compare car hire in Sligo today for great deals.
Top Sligo attractions
Yeats Memorial Building:
Located in Sligo City Centre, Yeats Memorial Building was established to preserve the heritage of the Yeats family, mainly work by the Nobel Prize winner for literature in 1923, William Butler Yeats. After your visit, why not take a trip to Drumcliff, about eight kilometres from Sligo Town, and visit the humble grave of the great Irish poet?
Carrowmore Megalithic Cemetery:
The largest megalithic site in the country, Carrowmore Megalithic Cemetery, has over 60 tombs, of which 30 are visible. Many are accessible, and the oldest tomb predates the pyramids! Also on site is a small cottage housing an exhibition on the burials.
Voya Seaweed Baths & Spa:
Located in Strandhill, only a few minutes from Sligo Town, Voya Seaweed Baths and Spa offer a unique and relaxing seaweed-based treatment experience. The hand-harvested seaweed is certified organic and is supposed to purify the body!
Other top attractions in Sligo to visit:
Famous tourist attractions in Sligo include Benbulben Mountain, Rose of Innisfree Boat Trips, Sligo Folk Park, Dolly's Cottage, Eagles Flying – Ballymote, Knocknarea Mountain, Sligo Abbey and The Model Arts Centre. Thank you for visiting our Sligo Travel Guide; we hope you found it helpful and informative.