Compare Offaly Car Hire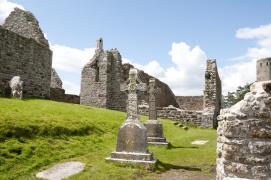 Cheap Offaly car rental
Compare Offaly car hire online for great deals. This article will cover the top tourist attractions in Co Offaly, Ireland, including the best hotels and car hire. Located in the Midlands, County Offaly has much to offer, from the historic Birr Castle to the imposing Slieve Bloom Mountains. Barack Obama recently visited the county to see his ancestral home in the small town of Moneygall.
Airport
The closest major airport to Tullamore in Offaly is Dublin Airport, 83 kilometres away. Please check out the Dublin Travel Guide article for airport details.
Offaly hotels
Two of our favourite hotels in Co Offaly are Kinnity Castle and Tullamore Court Hotel; see below for more details.
Kinnity Castle
This fabulous four-star castle hotel oozes charm, with a few ghostly apparitions thrown in for fun! A favourite with celebrities, Kinnity Castle, lies within Ireland's Environmental Park and accepts pets.
Tullamore Court Hotel
This popular four-star hotel is located in Tullamore town centre. It offers complimentary breakfast, a business centre, a fitness centre, a swimming pool, a sauna, a Jacuzzi, a restaurant and high-speed internet access. Compare cheap hotels in Offaly online today.
Compare Offaly car hire
Compare cheap Offaly car hire today to see how much you can save. As well as the usual web-based Hertz, Budget, Avis, etc., international car rental options, Colton Car & Van Rental on the Clara Toad, Tullamore, offers a complete car hire service. Compare car rental prices today using our comparison engine and save.
Best tourist attractions in Offaly
Birr Castle
Although the actual castle, which The Earl of Rosse owns, is private, its beautiful grounds are open to the public. Visit the formal gardens, the terraces, the lake, the rivers and the waterfall. Within the Birr Castle grounds also lies Irelands Historic Science Centre!
Distillery Visits
Why not quench your thirst by visiting Locke's Museum and Kilbeggan Distillery in Kilbeggan, where you can enjoy some whiskey tastings? Or you can check out the Tullamore D.E.W. Visitor Centre in Tullamore, where a guided tour will take the thirsty visitor on a fabulous whiskey-soaked escapade. Thank you for visiting our Offaly Travel Guide page; we hope you have an enjoyable trip. Check out other destinations on our car hire in Ireland page.